Do I need an FIS approved ski race helmet?
Saturday, 1 September 2018 | Evan
Are you confused about when FIS-approved helmets bearing the FIS RH 2013 logo are required for ski races in the UK and Europe? Well you're not alone, as this is one of our most frequently asked questions. To answer this, we've put together some FAQs on ski race helmets.
1. Are helmets compulsory for all ski and snowboard racing events?
Yes. Helmets must be worn for all ski races, including slalom, giant slalom, super-G and downhill. All helmets for all disciplines must meet basic helmet standards (e.g. EN1077 and/or ASTM2040), but additional certification is required for some disciplines. Helmets with visors are not allowed.
2. Do I need an FIS RH 2013 certified helmet for Giant Slalom, Super-G, Downhill or Ski-Cross?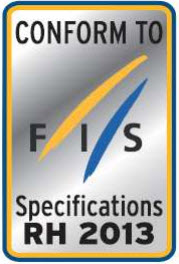 Yes- for U14 age groups and older. Helmets to be used in these disciplines must have hard ear covering and are required to pass more stringent testing than mentioned at point 1 above. This is as follows:
i. They must pass both EN1077 (Class A) AND the US standard ASTM2040
ii. They must also pass an additional test involving impact testing at a higher speed than is required under EN1077.
Helmets that meet these requirements are certified as conforming to FIS RH 2013. This is indicated on the helmets by a conformity label (see illustration on left)
3. For events where it is required, does the FIS RH 2013 conformity label have to be visible?
Yes, this label is required to be visible on the back of the helmet, to be non-removable and not covered by the goggle strap. This is to enable easy inspection by race officials.
3. Do Slalom racing helmets need to be FIS RH 2013 compliant?
No. Slalom ski race helmets must meet as a minimum either EN1077 (Class B) or ASTM2040. Ears must be covered, but soft ear pads are acceptable. In practice, all ski helmets sold in Europe will meet at least one of these standards. Although FIS RH 2013 helmets are not required for slalom racing, as they exceed EN1077 it is perfectly acceptable to use them.
4. Do Freesytle competition helmets need to be FIS RH 2013 compliant?
No, the requirements are the same as slalom racing- i.e. a helmet that meets either EN1077 (Class B) or ASTM2040. Soft ear pads are allowed.
5. Do Snowboard competition helmets need to be FIS RH2013 compliant?
No. The regulations state only that helmets are compulsory and should meet an appropriate standard (e.g. EN1077 or ASTM2010).
6. Can I modify my race helmet?
For all disciplines, no spoilers or protruding parts are allowed, apart from slalom chin guards. This means no camera mounts. In general, for all but top level competition, stickers on helmets are allowed, but these are discouraged as they may affect the integrity of the helmet material.
7. Do I need two helmets- one for slalom and one for GS?
No, you don't, provided you buy an FIS RH 2013 approved helmet that can take a slalom chin guard. This can then be used for both events.
8. What helmet should I buy if I'm starting out in ski racing in the UK?
To a certain extent it depends on your exact circumstances. If you think you will only ever race slalom events, then there is no need to buy an FIS RH 2013 approved helmet. In fact, any ski helmet would do, although we would encourage you to use a helmet with a slalom chin guard (you'll probably come to the same conclusion after being slapped in the face a few times by a gate!). However, if you think you might progress to GS racing, or if you simply want a helmet that offers a higher degree of protection, then by all means you could buy an FIS RH 2013 complaint helmet. Nearly all of these will have the capacity to add a chinguard, allowing them to be used for slalom racing.
9. Can you provide me with ski race equipment?
Why yes! Thank you for asking. Follow these links to see our range of ski race helmets, slalom guards, race goggles, ski race equipment bags, race gloves and body armour. We stock a variety of FIS-approved helmets from POC, Rossignol and Uvex.