New season avalanche safety equipment arrives!
Sunday, 14 October 2012 | Evan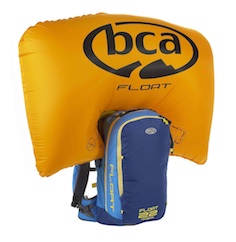 The shorts are packed away, this year's sunscreen bottle is in the bin and, as they say in Scotland, the nights are fair drawin' in. For many, this might be a cause for doom and gloom, but here at Gravity Protection it fills us with excitement, because it means WINTER IS COMING and ALPINE SNOW WILL BE HERE SOON! (OK, we know there are glaciers for the summer, but it's not quite the same is it). The autumnal excitement has been heightened even further with the arrival at Gravity Protection HQ of big boxes full of nice, shiny avalanche safety equipment. Within the last week, all of our Ortovox stock has arrived (you can see it live on our website), and we're expecting our BCA stock within the next week or so. We're particularly keen to get our hands on the BCA Float avalanche airbag rucksacks which caused such a high-profile stir last year (these sold out in the US after a youtube video showing one in action went viral). These seem to be an exceptional quality bit of kit, and we'll be skiing with them ourselves this winter. As the season progresses, we'll be adding more brands and extending our range of products, with the aim of giving you, dear reader, the best selection of mountain safety equipment available in the UK.

That's all for now, but look out for the next blog, where I'll be writing in praise of UK artificial slope skiing (I know, it's like marmite, you either love it or hate it).

Evan