Review of BCA Float 22 Airbag Backpack
Saturday, 23 February 2013 | Evan
I'm just back from a week off-piste in Ste Foy where I used the BCA Float 22 airbag backpack for the first time, so I thought this would be a good time to post a review of the pack. The rucksack that I used is pictured above- as you can see it's the blue/yellow model. Colour choice is very individual, but personally I like this modern colour scheme. The pack has a nice low profile, with relatively few external features visible from behind- there are the diagonal ski carrying loops that you can see top right and bottom left, and there are also four very small loops for fixing the detachable helmet carry sling. I didn't actually use this sling, but I should have- after one ascent there was steam coming off my head when I took my helmet off!
Again as you can see from the picture above, the backpack has two main zipped compartments that are accessed on a regular basis. The first, located furthest towards the back of the pack, is a dedicated compartment for avalanche rescue equipment. This contains pockets for a probe and shovel handle, as well as space for the shovel blade. It's shown here:
The second compartment houses the compressed air cylinder, along with the trigger cable and tubing which connects the cylinder to the airbag. In normal use, these are mostly hidden behing a velcro-fixed panel, as shown in the photo below. Note that I detached the trigger and gas cable from the cylinder before flying back home, so they're not connected to the cylinder in this photo- you can just see the ends of the cables poking out from behind the velcro-fixed panel. It's pretty straightforward to connect these cables to the cylinder- it takes 3 or 4 minutes, most of which time is taken up screwing in the trigger cable. This compartment also has extra storage room for a few essentials, for example, there's easily enough room for everything you'd need for a short tour, such as a water bottle (the Float 22 isn't hydration system compatible), lunch and a spare clothing layer.
There's also a third compartment, which houses the 150l capacity airbag itself. Exteriorly this is held shut by velcro fastenings and a zipper designed to burst open when the airbag is inflated. You can see some pictures of this here:
Closed velcro fastener over airbag compartment.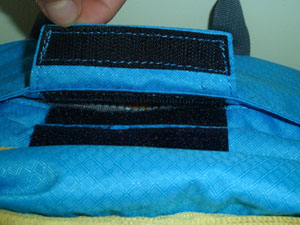 A peek under the velcro. Zip just visible.
Turning to the front of the pack, there is a standard harness arrangement with chest fastener and a reinforced hip belt. This is fastened with a secure metal buckle:
The left hand shoulder strap contains the trigger handle, which is shown below. It's made of sturdy plastic. For on-piste use and travel it is zipped away neatly into the shoulder strap. The handle struck me as being of a nice ergonomic shape to pull in an emergency- fortunately I didn't have to test this!
Like all airbag backpacks,at about 2.5kg with cylinder, the Float 22 is relatively heavy compared to normal off-piste packs. However, one thing that surprised me was that I hardly noticed wearing the pack while skiing. I think this is probably because of the low profile of the pack, which keeps the weight close to the body.
My overall impression is that this is a well-thought out, good quality pack. It would be ideal for users who primarily are doing off-piste skiing and shorter tours (I used it for several day tours), but if you're doing longer trips you should look to a larger pack such as the Float 32. In short, good job BCA!